The Economic Cycle Research Institute, ECRI -- a New York-based independent forecasting group, released its latest readings for its proprietary Weekly Leading Index (WLI) Friday.
For the week ending February 3, 2012:
WLI is 123.3 up from the prior week's reading of 123.0.
Chart of WLI and WLI growth vs GDP Growth
(click charts to expand)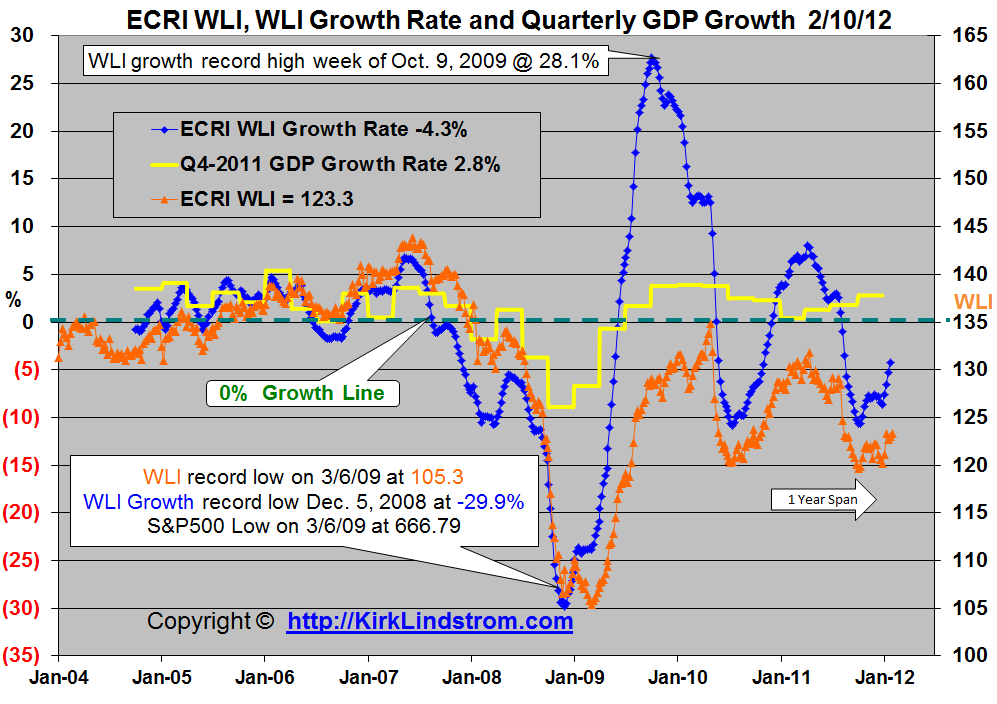 Since ECRI releases WLI numbers for the prior week and the stock market is known in real time, you can sometimes get a clue for next week's WLI from the weekly change in the S&P500 or its exchange traded fund, SPY. Notably, in the lead-up to the last two recessions, the WLI turned down months before the stock market did.
Chart of S&P500 vs ECRI's WLI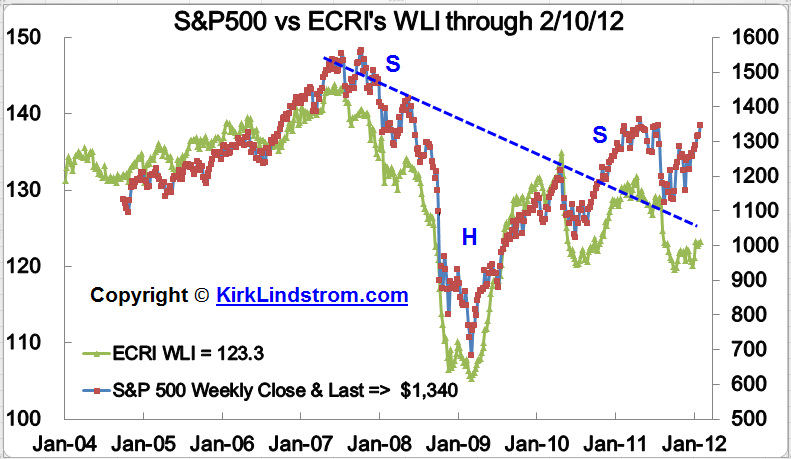 ECRI has not publicly backed off their most recent call for a recession. They were correct with their recession call in early 2008, while the S&P500 rallied to the dashed blue resistance (now support) line on the chart above.
Could they be wrong this time?
By climbing to new highs with dividends reinvested, the stock market sure seems to act like it thinks we will avoid a recession.
See my full article:
Keep An Eye on SPY: ECRI's Weekly Leading Index Rises
Long Term Results that Speak for Themselves
Since 9/30/98 inception, "Kirk's Newsletter Explore Portfolio" is
UP 390%
vs. the S&P500
UP only 51%
vs. NASDAQ
UP only 57%
(All through
12/31/11
)
(More Info,
Testimonials
& Portfolio Returns)
Latest 2012 Update: Up 10% YTD as of 2/12/12