Often compared to legendary Warren Buffett, Jim Cramer's college buddy Eddie Lampert made a big bet on
Citigroup
that has not looked good in the short-term. A
New York Times article
today reports:
In August, a hedge fund controlled by Edward S. Lampert, the value-oriented investor, disclosed that it had built a $1.3 billion stake in Citigroup, the beleaguered financial giant.

In the last year, RBS Partners, an affiliate of Mr. Lampert's ESL Investments, has steadily poured money into Citigroup shares. As of March 31, it valued its stake, then about 15.24 million shares, at $782.6 million. It increased that stake to 24.8 million shares by June 30, giving its Citigroup holdings a value of about $1.3 billion, regulatory filings show.

Citigroup shares closed at $33.41 yesterday. That would value RBS's stake at $828.6 million, a paper loss of about $471 million from late June.
Not only did Eddie Lampert, like Citigroup when it was much higher, his buddy Jim Cramer thought Citigroup was a great stock to buy at $53, collect the dividend and wait for it to go higher with a new CEO or announcement of a break-up. In the July 17th, 2007 article, "
Cramer's Take on Eddie Lampert's Stocks
," Jim is quoted as saying of Citigroup:
"For the life of me I don't understand why everyone isn't buying Citigroup. You've got a much better than average yield," Cramer said in a June 21 RealMoney blog post. "You have a management that doesn't have a clue and could be gone in an instant, which would mean you could pick up a quick $3 or $4. You have a company that could be a big gainer worldwide, and it is a ROWer (that's rest-of-world, for those who've missed my thousand references to it)."

and

"I am blown away that this stock has been stuck at $53 with all of these positives lurking. This isn't Bank of America (BAC) , where you can only hope that they stop buying things. This is one of those stocks where you could have a dramatic move up on any talk of a breakup or a change at the helm, and in the meantime you will get paid to wait."
With Citigroup, I've made a lot of money in my
newsletter explore portfolio
buying back in Sept 30, 1998 AFTER it crashed from the mid $30's to the teens. I sold enough shares to be on "house money" but I would have done better to have sold in 2000 when it hit the mid $50's before falling 50% to make a bear market low in 2002. That is not my style.
I like to buy great companies when they go on sale, the same way I buy pants and shirts at Macys (
M
) after holiday markdowns. After holding all through spring and summer, I am wearing a $58 Merino wool polo sweater-shirt now that I bought last year for $15 the day after Christmas. Even if Citigroup goes lower, you should be able to wrap up some shares now, collect the dividend and brag about how smart you are in a year or two when we get past this subprime mess and the stock has recovered.
Since 2002, Citigroup rallied again from the mid $20's to a new all time high in the mid $50's before the sub prime meltdown crushed the stock into the mid $30's. Yesterday, Citigroup clsoed at $33.41, at another major support line shown on the graph below.
Click to view larger graph
I've held all along and collect the dividend. I hope and believe this is yet another great buying opportunity, but I'll get no "trader points" for being a long term buy and holder on Citi, which is what I often do once I am on "house money" for stocks.
Note:
I also own Citigroup in my personal portfolio. I may add shares here but I have yet to decide. Yesterday I added to my SPY position using profits taken in my international mutual funds. SPY is the ETF for the
S&P500
which has a significant weighting in the financial sector.
---
11/08/07 8:15AM PST Update:
Here is a chart I found at "
SeekingAlpha: Citigroup 'Crisis': Some Perspective Is In Order
" showing the same support line with the "crisis of the day" listed.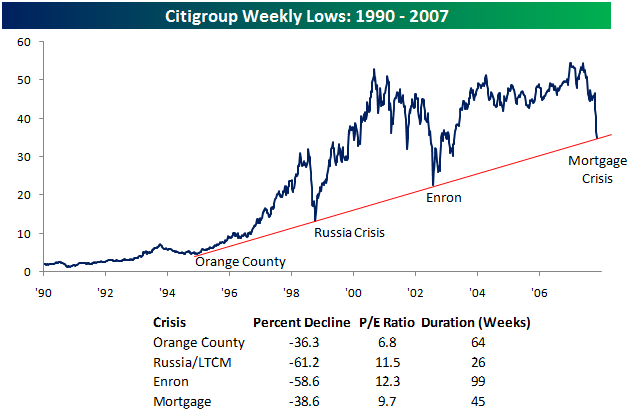 Click to view larger graph
Are you one to say "this time it is different?" I hope not.